Sandvox Trial
(Not Applicable to the Mac App Store edition)

Sandvox is available as a free trial before purchase.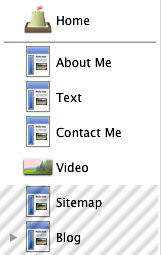 To try out Sandvox for free:
Visit our website at http://www.sandvox.com/
Click the "Download Free Trial" button.
Sandvox will begin downloading.
Once the download completes you are free to place the Sandvox application anywhere you like and then launch it.
The file that you have just downloaded is the complete Sandvox application. When you launch it, it initially runs as the Sandvox trial, but you can enter your license key at any point to end the trial and fully "unlock" the application. This saves you from having to download another file should you choose to purchase Sandvox.
There is only one limitation in the Sandvox trial; you can only publish the first 5 pages, no others. Once your license key has been entered you are able to publish all pages.
---
Keywords: trial, demo, trials, demos, demoing, test, run, testrun, test-run, try, trying, activate, activating, activation, unlock, unlocking, license, key, licensing, registration, registering, lines, crosshatches, crosshatching, diagonal, shading, parallel lines, pattern, hash, hash marks