Browse and Search "Earth's Biggest Selection" at Amazon.com with the Macintosh touch. Great for Shopping or Research!
Browse top-sellers over hundreds of categories.
Quickly search for items in each of Amazon.com's online stores.
Powerful capabilities: search books by ISBN, movies by actors and directors, music by artists, and more!
"Power Search" to refine your search terms
View Images and read reviews of products without using your Browser.
Quickly "drill down" using the Column Browser to find just what you're looking for
Prices updated automatically once per hour
Add items to your shopping cart for purchasing online.
Drag products from the detail drawer into a Spring canvas. (Requires Spring version 1.0 [Final Release].)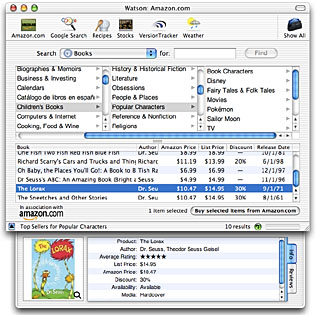 Click for full-size screenshot in a new window.