Sending files to Karelia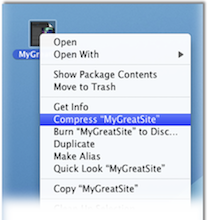 In some cases, the support team at Karelia software may ask you to send a copy of your Sandvox document (or some other supplemental files) to us.
Zip and rename the zipped file before sending it to us
Compress your Sandvox document into a "zip" file by control-clicking (right-clicking) on the document and choosing "Compress <filename>".
Important:

Rename this zipped-up file to the case number

assigned to your case by Karelia support so we will be notified when it is available.
For instance: Case 112233.zip
If your file isn't numbered, we may not be aware you have uploaded it, and it may be deleted prematurely!
If it is a small file
Less than 10 MB in size, reply to the email from Karelia support and attach the zip file to it.
If you use DropBox
Drag the zip file into your Public Folder, as described here: <http://www.dropbox.com/help/16>.
Then reply to the email from Karelia support with the public link for your file so we can grab it.
Using our free 'Upload to Karelia' utility
Unzip this, if needed, and then launch it.

Did you rename your file to the case number

as described above?
Drag your zipped file onto its window.
Wait for the uploader to finish; it may take a while.
When the upload is finished, we will be notified so we can continue helping you, but only if the file uploaded has a case number in it!
Try an online file transfer service